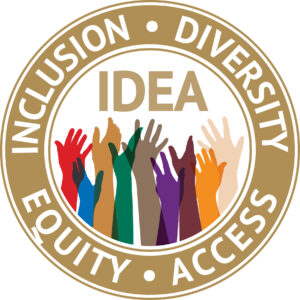 Students of color, girls, Latinx, and LGBTQIA+ have been historically, and continue to be, vastly underserved and underrepresented in STEM professions. The National STEM Honor Society (NSTEM) aims to foster real change by promoting Inclusion, Diversity, Equity, and Access (IDEA). 
Because we believe that learning thrives best in a diverse community, and that society benefits from the contributions of a diverse population, the National STEM Honor Society:
Recruits school communities with underrepresented and underserved students.

Works to be anti-racist and to remove barriers and layers of disadvantage and injustice to Latinx, Black, Indigenous, and People of Color (LBIPOC) communities. 

Condemns discriminatory action towards the LGBTQIA+ community and strives to create an open, supportive environment for people of all gender identifications and sexual orientations.

Promotes understanding and respect for people of all religions to have the freedom and comfort to express their faith.

Guarantees equal opportunity for individuals with disabilities outlined in the Americans with Disabilities Act (ADA) and the Amendments.

Maintains a library of resources curated to include the work of people of different genders, races, ethnicities, and backgrounds.

Encourages schools and students of all economic backgrounds to participate.

Operates the entire NSTEM organization embracing all facets of IDEA with an international internship focused on I

nclusion,

D

iversity,

E

quity, and

A

ccess

(IDEA).
National STEM Honor Society is committed to serving all students and educators regardless of their race, gender, religion, ethnicity, disability, age, nationality, and sexuality.