By Ratchana Ramesh Pandi
Middle-school science experiments serve the budding catalysts for curious young minds. They kickstart critical thinking abilities, instill a sense of wonder, and lay the foundation for a lifelong love of learning. Essentially, they are the secret ingredient that transforms mere students into eager learners and budding scientists. With this in mind, let's plunge into a more comprehensive exploration of three significant science-based experiments thoughtfully tailored for middle schoolers.
The Rube Goldberg machine experiment offers middle-schoolers an immersive experience in engineering creativity. Participants can undertake this experiment individually or in pairs. The materials needed are everyday household items like marbles, plastic race car tracks, levers (such as binder clips and rulers), and dominos. The time duration may vary based on the complexity of the machine, typically taking a few hours to assemble. The experiment involves designing a sequence of chain reactions where each component triggers the next in a playful yet complex manner. The purpose is to enhance critical thinking, problem-solving skills, and understanding of cause-and-effect relationships, all while nurturing creativity. This engaging hands-on activity introduces students to engineering concepts and the joy of practical problem-solving, making it an essential tool for fostering a deeper appreciation for STEM fields. If you would like more information, visit https://www.rubegoldberg.com/education/.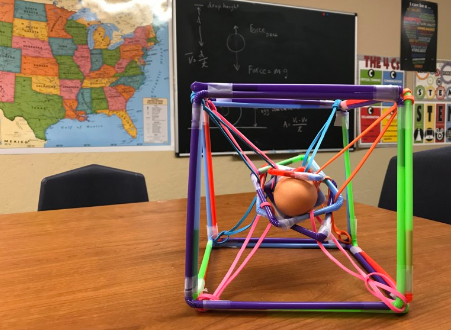 The Egg Drop experiment presents an engaging opportunity for hands-on exploration. Designed to enhance understanding of forces and motion, the activity challenges students to create a protective container for an egg, minimizing its chances of cracking upon impact. The experiment can be conducted individually or in groups of 2–3 students. It requires basic materials such as an extra-large egg, a bag of materials (including cardboard cups, string, tape, balloons, and straws), and two sheets of scrap paper with pencils. Participants brainstorm, sketch mockups, and construct their egg protectors in approximately 45 minutes (including a 20-minute drop period). Subsequently, the eggs are dropped from a consistent height onto a protected surface, followed by an assessment for damage. The goal is to encourage curiosity, creativity, and problem-solving skills while immersing students in a practical learning experience that delves into engineering and design principles.
Building a roller coaster is an exciting 2-hour hands-on lab that can be conducted in groups of four. In this activity, students create their own model roller coasters using pipe insulation and marbles. Students construct roller coasters driven solely by gravity by applying physics concepts like kinetic and potential energy, gravity, and friction. The lab emphasizes the engineering design process as students brainstorm, design, and build their roller coasters, testing and iterating their designs for optimal performance. The purpose of the lab is to engage students in the practical application of physics principles while fostering teamwork, creativity, and problem-solving skills. The activity encourages students to think like engineers and analyze the constraints and challenges of designing functional and exciting roller coasters.
Do you want more resources on the topic of STEM science experiments for middle schoolers? NSTEM's vast resources database provides thousands of searchable STEM resources by category, school level, and state. This comprehensive library includes info on enrichment activities, curricula, internships, scholarships, and more. Check out a free sampling here. Or get an NSTEM membership today to unlock the complete list. 
Middle School is where students are transformed, entering as children and emerging as young adults. Project-based learning enrichment helps students connect the dots between STEM and real life, making math and science relevant for them and keeping them engaged and interested. With a meaningful middle school experience, students are far more likely to focus on STEM disciplines in high school and beyond.  To start your 6-8, middle school chapter of the National STEM Honor Society, click here.