Since the first widely used cancer screening test was developed in 1923, technology has transformed  for many groundbreaking discoveries in cancer testing (American Cancer Society). One of these was the development of genetic testing for hereditary cancers. These types of tests allow scientists to identify specific genes responsible for a person's susceptibility to hereditary cancers and allow them to assess an individual's risk of developing cancer if cancer tends to run in the family.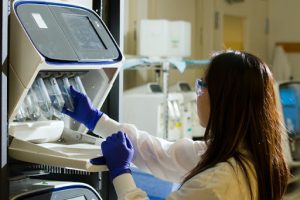 The process for receiving genetic testing for hereditary cancers can be a lengthy one. According to the American Cancer Society, there are a number of signs that indicate whether someone may have an inherited form of cancer or cancerous tumor. One of these signs is the presence of one type of cancer on one side of a family. Another common sign is when a relative has more than one type of cancer. 
While many of these signs can raise concerns, none of these are perfect indicators that an individual has or doesn't have an inherited cancer of some sort. Before genetic testing can be recommended, one should review their family's history of cancer with a medical professional and take part in genetic counseling (National Cancer Institute).
Genetic counseling is an important part of the process of testing for hereditary cancers since it is a requirement for informed consent. Normal medical tests only reveal information about a patient, but a genetic test is different because it reveals information about a patient's relatives as well. Relationships between family members can be affected if test results are disclosed. Some family members may also not wish to know their medical status when it comes to inherited conditions such as cancer (National Cancer Institute).
Genetic testing for cancers can be done through one of several tests, which are usually performed on a blood sample. However, they could also be done on saliva and tissue samples. Once a sample is collected, it is then sent to a genetics lab where the DNA is tested for one of more than 50 cancer-causing genes that are able to be identified through genetic testing. Results may then take a few weeks to return to a doctor after the doctor requests them. (National Cancer Institute). Thankfully, more than 90 percent of insurance companies cover testing for hereditary cancers (McLeod Health).
Recently, researchers have developed a brand new genetic test that screens for MMR deficiencies, which allows scientists to easily screen individuals for certain types of hereditary cancers. Current tests are known for being ineffective and inefficient, meaning patients sometimes must be tested multiple times in order for conclusive results to be reached. With this new development, known as MultiMMR, the process of testing for MMR deficiencies is optimized, allowing for dependable results from a single test while also determining the cause for the deficiencies. The determination of deficiencies also happens to be a feature that current MMR deficiency screenings lack (SciTechDaily).
Receiving a positive result from genetic testing does not necessarily mean that an individual has inherited cancer from a relative. Rather, it may indicate that they are more at risk of developing cancer or a possible tumor and should take steps to prevent cancer from developing. In the case of lung cancer, for instance, one may choose to quit smoking to decrease their chances of developing cancer. Likewise, a negative test does not mean that an individual will not develop a certain type of cancer. It only means that an individual's risk for having that form of cancer is no higher than that of the general population (National Cancer Institute).
In any case, it is important that a patient and their doctor maintain strong communication and understanding about what the results mean, and what steps should be taken moving onward.
Sources:
https://scitechdaily.com/new-genetic-test-effectively-screens-for-hereditary-cancer/#:~:text=Researchers%20have%20have%20developed%20a%20new,colon%2C%20endometrial%20and%20other%20cancers
https://www.mcleodthealth.org/news-entry/are-genetics-raising-your-risk-of-inherited-cancer-2022/
https://www.cancer.org/cancer/cancer-basics/history-of-cancer/screening-early-detection.html
https://www.cancer.org/cancer/cancer-causes/genetics/genetic-testing-for-cancer-risk/understanding-genetic-testing-for-cancer.html
https://www.cancer.gov/about-cancer/causes-prevention/genetics/genetic-testing-fact-sheet
Written by: Matthew Jenkins
Date: 02/21/2022