By Caleb Taran
As a high schooler, you carry many responsibilities on your plate. Managing your academic commitments, maintaining your social life, and pondering your future all take your attention. Balancing these can be tricky, but it's essential. As your high school career goes on, you want to collect experiences and skills, especially if they enhance your college application. If one of your interests is math, consider participating in a mathematics competition. Math competitions are an excellent way to show off your intelligence and devotion to the field; colleges will undoubtedly be interested. Here are 5 top mathematics competitions for high-schoolers.
1. American Regions Mathematics League 
Located on three different campuses across the US (Penn State University of Nevada at Las Vegas, the University of Iowa, and the University of Alabama in Huntsville), the American Regions Mathematics League (ARML) is an annual competition with teams of up to fifteen students and two coaches. It encompasses various aspects of mathematics (notably excluding calculus), and gift card prizes are awarded. This event is highly competitive and features brilliant students from throughout the world. The 2022 contest alone included participants from the United States, China, Canada, South Korea, Columbia, Thailand, and Iran.
2.

Harvard/MIT Mathematics Tournament
As the name Harvard/MIT Mathematics Tournament implies, this annual tournament is one of the most prestigious math competitions in the US, organized by Harvard and MIT. Technically, there are two! The Harvard Mathematics Tournament is in November, and the MIT Mathematics Tournament is in February. Similar to ARML, this is a team-based competition with multiple rounds of challenging questions, tests, and problems. You must apply to register, and due to the large volume of applicants, acceptance to the tournament is decided via a lottery system.
3.

Trig-Star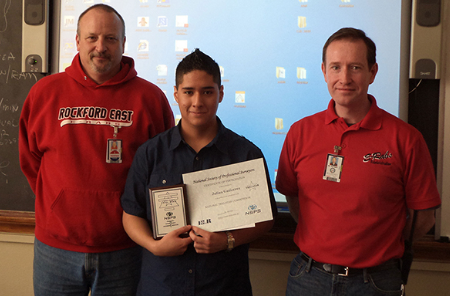 Focusing primarily on trigonometry, the Trig-Star contest has multiple levels, beginning with local competitions. From there, the winners will continue to rise, and the best will qualify for the national competition. To participate in a regional competition, your school will need to act as coordinator. So, see if any school official could get your school involved (if it still needs to be added). What might make this competition more intriguing than others is that it focuses more on the practical applications of trigonometry. Instead of vague problems, you will have to tackle complex and challenging issues. However, there is a reward for this hard work: aside from being a great look for your resume, the winners receive cash prizes ranging from $500 to $2,000.
4.

TEAMS
Another team-based competition, TEAMS, tasks middle and high school students with using their STEM skills to take a multiple-choice exam, write an essay, and creatively solve a hands-on engineering problem over a day. If the final part sounds interesting to you, definitely consider it. It's very empirical, creative, and fast-paced. Therefore, it will take a lot of inventiveness to participate in this one. As a final note, the TSA (Technology Student Association) administers TEAMS. While it isn't required to belong to TSA to be a part of the TEAMS contest, belonging to a TSA-affiliated chapter will grant you a 30% discount.
5.

Caribou Mathematics Competition
The Caribou Mathematics Competition may take place entirely online, but don't let that fool you: it is still just as competitive and challenging as any other competition on this list. Their worldwide exams are held six times per school year (usually in October, November, January, February, April, and May). Students who participate in all are eligible for consideration in the Caribou Cup. Their "Caribou Contacts" program makes it easier for students to hear about and join this competition, giving teachers and librarians the ability to become facilitators. However, the Caribou website still includes many activities, tools, and lessons that are accessible throughout the year. They're perfect for classrooms, homeschooling, and even virtual learning environments.
If any of these mathematics competitions for high-schoolers sound interesting to you, and you're looking for even more experiences to put forth on a college application, then consider starting an NSTEM chapter at your school. The National STEM Honor Society is a group that aims to inspire a lifelong love of science, technology, engineering, and math for students of all ages. Not only is starting a chapter a fantastic way to have colleges notice your commitment and resourcefulness, but it will also connect you with like-minded individuals who can help you throughout your career. In today's world, interest in science should be fostered by STEM educators, and this is a perfect opportunity to do so.
Do you want more resources on the topic of mathematics competitions for high-schoolers ? NSTEM's vast resources database provides thousands of STEM resources that are searchable by category, school level and state. This comprehensive library includes info on enrichment activities, curricula, internships, scholarships and more. Check out a free sampling here. Or get an NSTEM membership today to unlock the complete list.
Project-based learning enrichment provides high school students with college and career readiness. It gives them real world relevance, transforming students into collaborators and imaginative problem solvers. They will gain the upper hand in a global landscape, stemming from enhanced confidence and grit. NSTEM provides these young STEM enthusiasts with a close community of like-minded fellow students and educators.  To start your 9-12 Chapter of the National STEM Honor Society, click here.