When turning on the TV or opening a newspaper, news about climate change or mass extinction is common. Nevertheless, as a society, we do not have to lose focus on the fact that it is in our hands to change this reality. Thankfully, there is a whole brunch of science dedicated to studying the environment and its dynamic changes: ecology. 
Image link
Photographer: Lewis Roberts
What is ecology?
Ecology is the study of living organisms, the environment, and the relationships between them. An ecologist studies the link between living things and their habitats, asking themselves questions such as: How do living and nonliving factors affect certain organisms? What does a specific animal need to live and thrive in their habitat? 
Moreover, ecologists play a principal role in understanding why an animal goes extinct and what is happening in an environment for it not to function normally.      
How does ecology affect us?
Ecology also studies humans and their interaction with the planet. Why wouldn't it? Humans can be found in almost every corner of the earth. In some cases, our interaction with the environment has benefited the planet and other living systems; however, in most cases, it has not.
So…Why is ecology so important?
It helps with conservation

: Ecologists use models and observe the environment to determine the extent to which it has been damaged and propose measures to preserve biodiversity and ensure the planet's longevity.  

Efficient resource allocation:

one of the most important aspects of ecology is studying how the different living creatures utilize resources. As humans, we must consider alternative sources of power or energy to create sustainable fuels that will last.
Photographer: Jason Blackeye
Plague and disease control:

microorganisms are as important in our ecosystem as any type of organism. Everything from viruses to parasitic worms has to be studied to understand best how to solve the problems they may cause in our life.  

Promotes eco-friendliness

:

Mass extinctions, climate change, deforestation, pollution, all these are examples of the negative influence of human activity on earth. These are all worrying factors; however, still, as a society, we are not doing enough to solve these problems. Ecologists are behind their studies and are looking for ways in which individuals can help the most. In addition, they give us accurate information so that we can make decisions based on facts. Ecology, environmental science, and environmental engineering are areas of study that will play an essential role in our future and survival.
What are ecologists doing to solve these worrying issues?
As previously mentioned, ecologists have made significant advances in raising awareness and preoccupation for these crucial matters. After the 2015 United Nations Climate Change Conference, several countries have adopted measures to reduce their impacts on the environment, and some even declare themselves in "climate emergency." On the other hand, youngsters worldwide have raised their voices to fight for their planet. Greta Thunberg, the teenager that has become an influential force in fighting climate change, said: "Right here, right now is where we draw the line. The world is waking up. And change is coming whether you like it or not."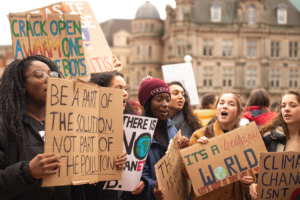 Photographer: Callum Shaw
What can we do to help as individuals?
Recycle:

Recycling saves energy, reduces pollution and waste, conserves natural resources, and even increases economic security. 

Drive less:

walking, carpooling, riding a bicycle, or using mass transport more often significantly reduces the amount of carbon dioxide released into the atmosphere. 

Use less hot water:

heating water requires a lot of energy. In other words, it liberates tons of carbon dioxide. Taking shorter or cooler showers and washing your clothes in warm or cold water instead of hot would have a very positive impact. 

Turn off electronic devices:

turning off your computer or Playstation while you are not using them will save thousands of pounds of carbon dioxide a year.

Change a light:

Compact fluorescent light bulbs save 150 pounds of carbon dioxide a year. 
What can we do to help as a school community?
There are numerous ecological projects that you can engage with your classmates. While benefiting the environment, taking part in a campaign with your peers will strengthen your bond as a group. Here are four examples of exciting projects: 
Plant trees:

Trees

are habitats for many animals, absorb carbon dioxide, give oxygen, stabilize the climate, and provide food to many organisms. Starting a tree-planting project on school property or in your community is an excellent way of helping the planet and learning about botany (a branch of ecology that studies plants).

Conscientization campaigns:

raising awareness about crucial topics such as deforestation or the importance of recycling is easy and has a powerful impact on your community. There are many ways to accomplish this: creating a website, using social media accounts, handing flyers, etc. 

Start an anti-one-use plastics campaign:

make students aware of the negative impact using plastic bottles or plastic bags have. Promote bringing terms to school and avoid plastic items such as straws. 

Plant a

vegetable garden

:

devote some land on school grounds to grow organic vegetables. It can be used in the school cafeteria and given to food banks to help people in need. Students will have to take care of this garden: they should plant, grow, and monitor it. It's a good way of giving them information about every vegetable they produce, their qualities and health benefits. 
Image link Photographer: Sandie Clark
Guadalupe Lauro, National STEM Honor Society
June 10th, 2021